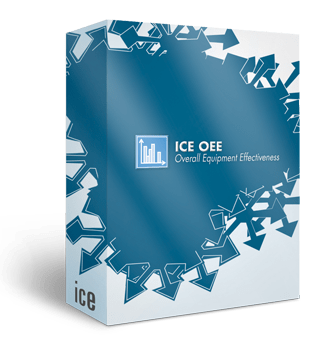 ICE OEE®
Do you need overall equipment effectiveness and an overview of reasons for loss?
Then ICE OEE® is the system for you.
What is ICE OEE® and how can it help you?
ICE OEE® monitors equipment effectiveness, and provides real time visualisation of OEE data. ICE OEE® identifies the main sources of loss and displays data to support fact based improvements. ICE OEE® supports manual data entry as well as fully automated data registration. Downtime and output information is monitored during production. Stop reasons are categorised and grouped in predefined areas for identification of the areas with highest improvement potential.
ICE OEE® includes multiple graphs, some of which provide an overview of performance, while others provide details about stop-reasons, duration of machine stops, changeover times, meetings, scrapped items and more. Large screen display functionality is available in ICE OEE® for presentation of data inside the production areas. ICE OEE® is a web application that you access through your preferred internet browser – no software need be installed. This makes it easy to use and to share information, also from remote or geographically dispersed locations where data must be accessible.
Your advantages with ICE OEE®
Providing horizontal overview of the OEE data on all machines
Providing overview of main causes for performance loss
Providing real time monitoring of OEE against target, allows you to react immediately on bad trends
Providing fact based information for continuous improvement activities
Ease of use and availability of relevant information
Engaging the entire organisation in improvement activities
Usage of ICE OEE®
ICE OEE® is a powerful tool for live-monitoring of equipment. The purpose is to improve results, and achieve more efficient production run-times by minimising downtime and waste. Awareness of the machines' daily performance is facilitated by the large screen display of ICE OEE® that also motivates users to increase efficiency.
ICE OEE® reads data directly off the equipment and the communication can be established in multiple ways. It typically requires no equipment downtime to implement ICE OEE® if the ability to communicate with the machines is already in place. ICE OEE® also includes functionality for manual stop handling in a user friendly set-up. If communication is not available, it can be created with the implementation of ICE OEE®.